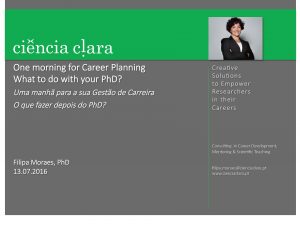 Come and spend one morning at Tec Labs! Workshop developed at Yale University-USA, and adapted to European and Portuguese realities. The participants will get valuable resources to their professional development.
TARGET AUDIENCE: 
1. Master, PhD students & Post/doctoral Researchers; 2. Coordinators of Masters and Doctoral Training programs; 3. Biotech &Pharma Companies that want to provide soft skills training to their collaborators.
GOALS: 
PhD students, Postdocs and staff scientists will actively learn more about their individual strengths, values and interests and they will be more knowledgeable about the job market and potential jobs to consider.
Campus da FCUL, 1749-016 Campo Grande, Lisboa
Morning, 10h-13h
Price: 30€, Minimum 30 participants
______________________
WORKSHOP DE GESTÂO DE CARREIRA –  O QUE FAZER DEPOIS DO PhD? Avaliação pessoal e exploração de carreiras compatíveis com a seu perfil profissional.
Venha passar uma manhã no Tec Labs! Formação desenvolvida na Universidade de Yale – EUA e adaptada às realidades Portuguesa e Europeia. Ao participar neste workshop ficará com valiosos recursos para o seu desenvolvimento profissional.
PÚBLICO-ALVO: 1. Mestrandos, Doutorandos e Pós-Docs de todas as áreas STEM (Science, Technology, Engineering and Mathematics); 2. Coordenadores e Diretores de Programas Doutorais e de Programas de Mestrado; 3. Empresas Farmacêuticas/BioTechs que procurem desenvolver as competências (soft skills) dos seus trabalhadores.
OBJECTIVOS DO WORKSHOP: 1. Avaliação de competências e ramos de interesse; 2. Fornecer recursos e informação sobre possíveis carreiras a considerar após o Mestrado /Doutoramento.

Quando: 13 July 2016, Morning, 10h-13h
Preço: 30€/pessoa, Mínimo 30 participants